Carnival Corporation, the world's largest cruise company, confirmed its aspirations to build zero-emission ships by 2050 that will be operated globally by its nine cruise line brands.
By 2050, the cruise giant will also strive to achieve 100 percent fleetwide shore power connection capability and net carbon neutral ship operations.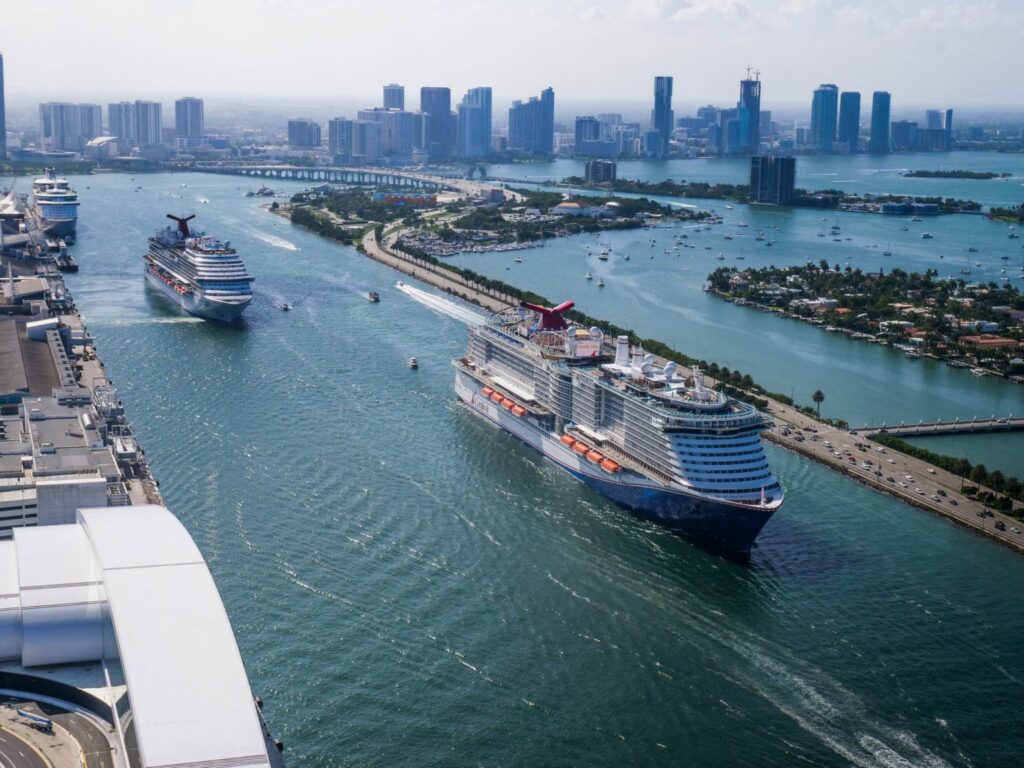 On 13 September 2021, Carnival Corp. released its annual sustainability report where it established goals for 2030 and aspirations for 2050, emphasizing the corporation's commitment to decarbonization to further strengthen environmental, social and governance (ESG) performance.
Developed to align with the United Nations' Sustainable Development Goals (SDGs), the six focus areas that will guide Carnival Corporation's long-term sustainability vision include — climate action; circular economy; sustainable tourism; health and well-being; diversity, equity and inclusion (DEI); and biodiversity and conservation.
In each focus area, the company has announced key goals, targets and aspirations that will guide Carnival's actions to further strengthen its environmental, social and governance performance, as outlined in its 2020 sustainability report.
"This comprehensive set of 2030 goals and aspirations for 2050 being introduced for the first time reaffirm our ongoing commitment to sustainability and will guide our actions to further strengthen sustainability performance throughout all aspects of our global operations, while supporting opportunities for sustainable growth across our organization over time," Bill Burke, chief maritime officer for Carnival Corporation, commented.
Carnival Corporation said it remains focused on its commitment and efforts to establish a pathway to decarbonization. Following a peak in absolute carbon emissions in 2011 despite a 20% capacity increase between 2011 and today, and an additional 19% capacity increase on order with new ships, the company said it will continue initiatives to reduce emissions over time and identify a pathway to decarbonization.
"We are committed to decarbonization and aspire to be carbon neutral by 2050. As part of our strategy, we are working toward transitioning our energy needs to alternative fuels, investing in new low-carbon or zero-carbon emission technologies, and partnering with various organizations and stakeholders to support and accelerate our decarbonization efforts," according to Arnold W. Donald, President and CEO of Carnival Corp.
As part of its strategic plan for carbon footprint reduction, the company opted for the use liquefied natural gas (LNG) to power cruise ships with a total of 11 next-generation cruise ships that will have joined the fleet through 2025, which will represent nearly 20% of its total capacity, including four ships already in operation.
Recently, Carnival welcomed LNG ships Iona and Mardi Gras, North America's first LNG-fueled cruise ship.
The company also pioneered the use of advanced air quality systems on board its ships and over 80% of its fleet has been equipped with such systems. In addition, 40% of its fleet has been equipped with shore-power capabilities, enabling ships to use shoreside electric power where available while in port.
In the future, Carnival wants to achieve a 40% carbon intensity reduction by 2030, relative to its 2008 baseline measured in both grams of CO2e per ALB-km and grams of CO2e per ALBD; expand an alternative fuels strategy that includes its LNG program and battery, fuel cell and biofuel capabilities; deliver a 50% reduction in absolute particulate matter air emissions by 2030, relative to a 2015 baseline, despite more than a 10% capacity increase since 2015 and the additional 19% capacity increase on order; increase fleetwide shore power connection capability to 60% of the fleet by 2030; reduce Scope 3 emissions; aspire to achieve 100% fleetwide shore power connection capability by 2050; and aspire to achieve net carbon neutral ship operations by 2050.
Carnival Corporation and its brands are focusing on a circular economy model where materials flow around a "closed loop" system, rather than being used once and then discarded, shifting how the company works with supply chain partners to reduce waste.
Operations Oceans Alive, the company's environmental stewardship program, has been supporting this focus area by continuing to reduce non-essential single-use items.
Goals and aspirations for 2030 and beyond under the circular economy focus area include: achieving a 50% reduction in single-use plastic items by the end of 2021; achieving 30% unit food waste reduction by 2022 and 50% unit food waste reduction by 2030; increasing fleetwide coverage of advanced waste water treatment systems to more than 75% by 2030; sending a larger percentage of waste to waste-to-energy facilities where practical by 2030, and aspiring to send 100% by 2050; partnering with primary vendors to reduce upstream packaging volumes, and aspiring to near 100% reuse of packaging materials by 2050; and aspiring to build zero-emission ships by 2050.
Carnival Corporation & plc portfolio of cruise lines comprises Carnival Cruise Line, Princess Cruises, Holland America Line, Seabourn, P&O Cruises (Australia), Costa Cruises, AIDA Cruises, P&O Cruises (UK) and Cunard.
This post appeared first on Offshore Energy.