UK's Rockhopper Exploration and Harbour Energy and Israel's Navitas Petroleum have signed detailed heads of terms agreement, which will allow a clean exit from the Sea Lion project in the Falkland Islands for Harbour and a farm-in for Navitas.
The move comes following Harbour Energy's decision from September 2021 to exit the Sea Lion project as it does not fit its corporate strategy. After Harbour revealed its exit plans, Rockhopper remained committed to unlocking the development and started discussions with Navitas Petroleum about its potential entry into the project.
The heads of terms agreement was announced by Rockhopper on Wednesday, detailing that the proposed transaction remains subject to definitive documentation and completion subject to, inter alia, regulatory approval.
Under the agreement, Harbour will divest its licence interests in the Falkland Islands and Rockhopper and Navitas will seek to align working interests across all their Falkland Islands petroleum licences – with Rockhopper holding 35 per cent and Navitas 65 per cent interest. Rockhopper and Navitas will then work to jointly develop and agree on a technical and financing plan to enable the development of the project to achieve first oil on a lower cost and expedited basis.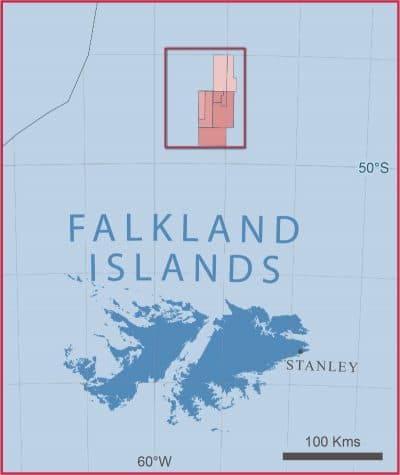 Furthermore, Navitas will provide a loan to Rockhopper and Rockhopper's share of Sea Lion costs from transaction completion up to Final Investment Decision (FID) will be funded through a loan from Navitas with interest charged at 8 per cent per annum.
In the event of a positive FID, Navitas will provide an interest-free loan to Rockhopper to fund two-thirds of Rockhopper's share of development costs. Funds drawn under the loans will be repaid from 85 per cent of Rockhopper's working interest share of free cash flow.
However, in the event that FID has not occurred within five years of completion of the proposed transaction, Rockhopper can elect to remove Navitas from the Falkland Islands petroleum licences – should the licences still be in effect at that time – by repaying the Pre-FID Loan.
Sea Lion plans
According to Rockhopper, the technical work is set to start by Rockhopper and Navitas jointly in relation to a lower-cost, alternative development for the Sea Lion project, utilising the existing extensive design and engineering work undertaken for the project in recent years. The finalisation of definitive documentation is expected in 1Q 2022 with completion subject to satisfaction of certain conditions including regulatory approval. Following the completion, Navitas will become the operator.
There is also potential for an additional project partner dependent upon funding requirements, but should this additional partner be required, Rockhopper does not intend to reduce its working interest.
Samuel Moody, Rockhopper CEO, believes this is the start of a new chapter in the potential development of Sea Lion as the new Rockhopper-Navitas joint venture will be fully aligned and committed to bringing the project to production.
He added: "This transaction will ensure we have material funding while increasing our retained working interest compared to the previously announced partnership structure with Premier and Navitas. The importance of Sea Lion in the Navitas portfolio is, in my mind, without question a further positive as we both seek to unlock its underlying value."
Sea Lion and its satellite fields are independently estimated to hold approximately 520 mmbbl of 2C Contingent Resources.
This post appeared first on Offshore Energy.