Offshore drilling contractor Shelf Drilling has revealed that 27 of its jack-up rigs are under contract and the rig owner expects to see an improvement in the global jack-up demand and pricing in the near term.
Shelf Drilling on Wednesday reported on its quarterly financial performance and shared the latest updates on its fleet of jack-up drilling rigs. In the near term, the company's CEO expects to see an improvement in the jack-up rig demand.
This view is in line with what Shelf Drilling's offshore drilling peers said earlier this month with Borr Drilling pointing to stronger customer demand and tendering in recent months and Vantage seeing increased contracting activity and industry-wide utilisation. In addition, Danish Maersk Drilling last week boasted the second-highest quarterly revenue since listing in April 2019. Also, in a push to consolidate the offshore drilling market, Maersk on Wednesday announced a merger agreement with its U.S. rival, Noble Corporation.
David Mullen, Chief Executive Officer, commented: "Five of our rigs returned to operations after completing suspension periods or out of service projects in recent months, and three additional contracts are scheduled to commence in the first quarter of 2022, which we anticipate will drive sequential improvements in revenue over the next two quarters. As of November 2021, 27 of our 30 marketable rigs are under contract."
Mullen added: "Based on the current strength in oil and gas prices and the recent increase in tendering activity in our areas of operations, we expect to see an improvement in global jack-up demand and pricing in the near term."
Shelf Drilling reported that the global number of contracted jack-up rigs remains below the pre-pandemic level with 383 rigs in January 2020 and 346 rigs in October 2021.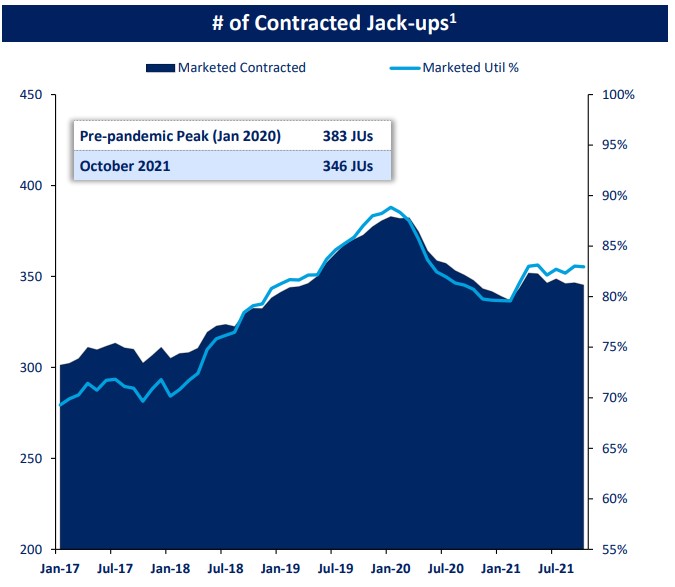 According to its quarterly report, Shelf Drilling booked a net loss of $22.4 million in 3Q 2021 compared to a loss of $7.7 million in 3Q 2020.
Shelf Drilling's revenues were $130.3 million in 3Q 2021 compared to $130.5 million in 2Q 2021 and compared to $127.4 million in 3Q 2020. The 0.2 per cent sequential decrease in revenues was primarily due to a lower effective utilization partially offset by an increase in average earned day rate.
The company's effective utilization decreased to 68 per cent in Q3 2021 from 71 per cent in 2Q 2021, mostly due to the completion of two contracts in the UAE and one contract in India combined with planned out of service time for one rig in Saudi Arabia, partially offset by the completion of an out of service project for one rig in Saudi Arabia and the start of a new contract for one rig in India.
The average earned day rate increased 4.9 per cent to $63,000 in 3Q 2021 from $60,000 in 2Q 2021, mainly due to increased activity for higher day rate generating rigs.
The company's cash and cash equivalents balance at the end of September 2021 was $251.3 million and its total debt was $1.2 billion. Contract backlog at the end of September across 26 contracted rigs was $1.5 billion.

When it comes to the status of its drilling fleet, the Parameswara rig completed a contract with Adani in September 2021 and subsequently secured a three-year contract with ONGC in India. The new contract is expected to start in January 2022 and end in January 2025.
Furthermore, the Compact Driller secured a four-well contract with Cairn for operations in India. The contract is expected to start in November 2021 and end in April 2022.
Two of Shelf Drilling's jack-up rigs began their previously announced contracts with ONGC. Namely, the J.T. Angel rig started its three-year contract with ONGC India in August 2021, scheduled to last until August 2024. In addition, the Trident XII rig began its three-year contract with ONGC India in October 2021 and will be working for the Indian company until October 2024.
The Main Pass I rig returned to operations with Saudi Aramco in October 2021 from suspension and planned maintenance. The rig is under contract with the Saudi company until September 2030.
Finally, Shelf drilling completed the sales of two rigs, High Island VII and Randolph Yost, in August 2021 and October 2021, respectively.
This post appeared first on Offshore Energy.